My husband and I are both very LAZY. It's not that we don't have lofty goals, life bucket items we'd like to cross off our lists but give us ONE REASON to get out of having to put in the WORK to have a major life experience (which my 12 year old coined the Macy's Thanksgiving Day Parade) and we will FIND A LOOPHOLE. I think I was always like this– I love the idea of parties, vacations, celebrity meet-n-greets, blah, blah- but when it involves me having to work extra hard to make it happen ( i.e. get up at the crack of 4   a.m. so I can feed and walk my shih tzus and get everyone out of the door  including myself and then into Manhattan) well- I'm that woman who will just say- FUGGEDABOUTIT.  See- I needed to marry a man- who would be my opposite in this way- he'd be my cheerleader and make sure we got these life list events done– but he and I we are very much the same in this respect- we are happy sitting in our house watching life pass us by from the comfort of our couch ( this would INCLUDE the Macy's Thanksgiving Day Parade).
Of course once our all access passes from Sprout came- and we were made acutely aware of the fact that we'd be privy to this parade fro the comfort of a hotel with prime viewing from its second floor windows while being feted by the likes of Laurie Berkner and waffles and omelettes as far as the eye could see- we were forced to tackle our laziness HEAD-ON- no not by each other but by our 12 year old daughter who said , " MOMMY AND DADDY I NEED THIS LIFE EXPERIENCE."
So there we were at 4 a.m. on a Thursday morning- in Staten Island- lying in bed- debating if we should just tell the kids the event was cancelled ( which is not easy to get away with once your kids are older than four years old and have access to all sorts of media that they can use against you in a court of law).
And so once we made the decision to JUST DO IT– here are the 5 things I learned about my marriage after getting up at 4 am to go to the Macy's Thanksgiving Day Parade.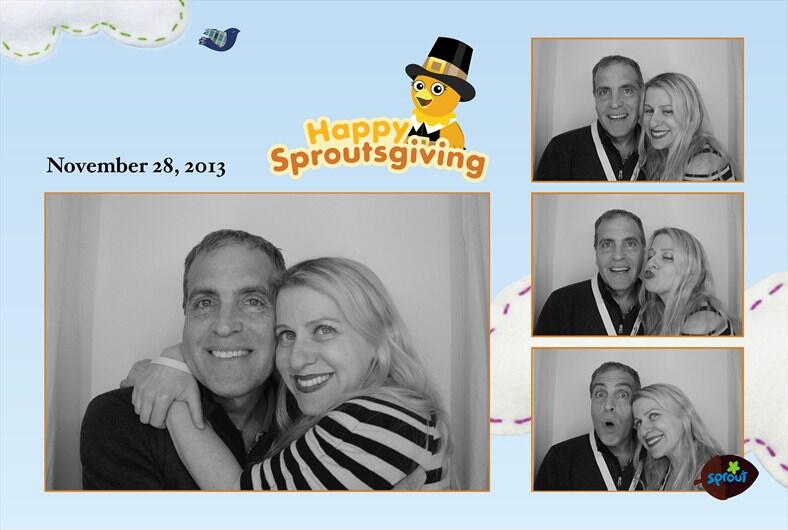 #1 Guilt is a POWERFUL THING. MY husband not one to be swayed by any guilt of any kind ( I swear I sometimes wonder if he is an alien) felt GUILTY NOT giving our kids this experience. Note to self: How can I use this guilt to sway him to do more favors for me?!
#2 My husband can walk the dogs in times of crisis. My husband says my shift is the morning one–but when push comes to shove- he will walk those dogs at 4 am ( note to self find more reasons to get him to walk the dogs at 4 am so that I don't have to walk the dogs .
#3 I've said it once and I've said it again- Kids are a GAME CHANGER. If it were just the two of us- seeing the balloons floats across our TV screens would've been more than enough- but it was our kids' anticipation and excitement about being at the parade- that gave us the extra push to get out the door. And we were NOT ALONE in this– looking around the room- once we got to the event- I witnessed many a bleary-eyed parent who had also traveled hours earlier just to be able to be at the parade.
#4 My husband is REALLY good at staking out a prime viewing spot at a window- and STANDING HIS GROUND. If we were getting up at 4 am – there was NO WAY my husband was not going to have our kids SEE THOSE FLOATS IN PRIME VIEW– and come hell or a VERY ANNOYING couple with four year old twins who tried to shimmy into the spot he had stood at by a window sill for 45 minutes– MY MAN WAS NOT ABOUT TO LET THAT COUPLE GET his kids' SPOT.
#5 Waffles and Mimosas are good for all marriages.
And here is just a lil video from our Macy's Thanksgiving Day Parade experience Thanks to SPROUT!
So did you learn anything about your marriage this holiday?!