Congrats to our winner Christy G.!
The dog days of summer are here which means back to school is quickly approaching! And while a new school year can be fraught with apprehension about new teachers, schedules and stricter bedtimes-we've got some great gadgets and tools to get you and the kids prepared for the start of a new season. With these  new must have tools for this season from Bonne Maman, Dreamfarm, Edgeware, and Swissmar- back-to-school will be ANYTHING BUT BORING!

Start the day on   the right foot with a good breakfast before school: Bonne Maman is well recognized around the world for the premium preserves and jellies in the iconic wide mouth jar, providing consumers with products of the highest taste quality, from the best French culinary tradition. For a quick easy and healthy breakfast add Bonne Maman to bagels, oatmeal, or yogurt.

100% natural

No high fructose corn syrup

Gluten-free and nut-free

SRP:   $4.79 for a jar
Make Ahead Strawberry Muffins
32 Paper baking cups

Half a stick of melted butter

2 ½ cups flour

4 tablespoons sugar + 1 tsp.

2 pinches of salt

2 tsp. baking powder

½ tsp. vanilla extract

2 eggs

9 oz. creme fraiche

1 jar Bonne Maman Strawberry Preserves (13 oz.)
Brush the inside of 16 paper baking cups with melted butter. Place each cup inside another paper cup. Place in a muffin pan. Pre-heat the oven to 400° degrees.

Mix the flour, sugar, salt and baking powder together in a mixing bowl.

Beat the eggs well. Add vanilla extract. Stir in the crme fraiche.

Add the dry mixture and mix carefully; don't stir too long!

Fill the prepared baking cups with the batter. Press one teaspoon of preserve into the centre of the dough in each one.

Bake at 400° on the middle shelf for 12-15 minutes. Cool and serve.
Keep organized with Dreamfarm Membo: remember to do it.  It's simple to remember the most important chores with the Membo from Dreamfarm. This organizing tool is great for families, class rooms, and offices.  No one want the dog feed twice or not at all! The tool is magnetic or adhesive and you can customize the icons.
Instantly know if a daily task has been completed

Customize the tiles to match the chore

Comes with dog, cat, fish and check mark icons

Can also download personalized icons

Use on flat surfaces only

Clean by wiping with a damp cloth

Colors: Black, red, white, green, pink, purple, yellow, orange and blue

SRP: $19.95
More organizational tools to help you: Dreamfarm Jot: just hold it there.  Stick anything, anywhere, anytime with this handy little tool. This is ideal for school lockers and classroom white boards.
Long lasting suction cup sticks to any smooth surface

Ideal for holding pens, keys, phone chargers, or sunglasses

Suction cup must be clean before sticking it to a smooth, flat surface

Clean by wiping with a damp cloth

Size: 1.8

Ten assorted colors, also available in clear

SRP: $5.95 for a set of 2
Make dinner easy with an Edgeware Pizza Wheel Sharpener is a sharpener for your ever-dull pizza wheel.  The ceramic sharpening rods realign and polish the edge of most pizza wheels and it is easy to use.  Simply roll through the sharpening stones a few times. Pizza is a favorite, easy, and can-be-healthy weeknight meal for all types of families.
Non-slip base provides stability

Regular maintenance with this sharper prolongs the life of a pizza/pastry wheel

SRP: $14.99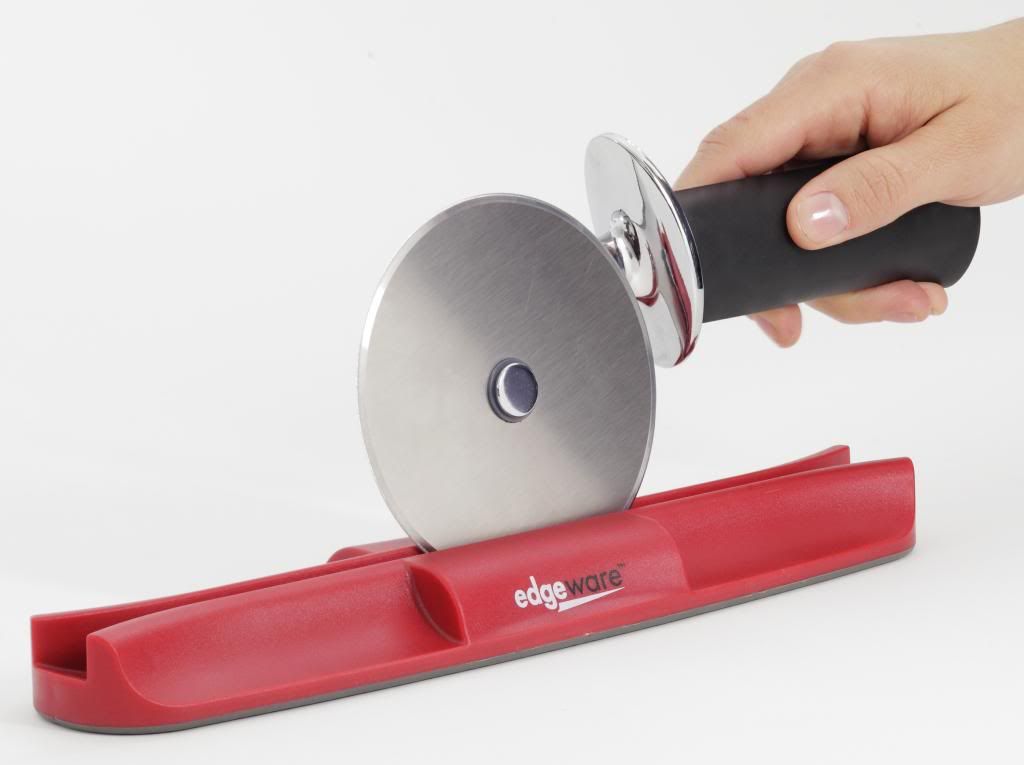 Make back to school dinners FUN and an event your kids will look forward to with a Swissmar Geneva 11-Piece Stainless Steel Fondue Set – perfect for an easy and fun weekday family dinner. The pot is made of 18/8 stainless steel; 18/0 bottom for added protection and stability of heat.  The tapered opening keeps the heat inside the pot, allowing the oil to remain above 350°F without spattering. Finally the modern design makes this piece great for kids or adult parties.

Set includes:
Meat fondue pot

Spatter guard

6 numbered stainless steel forks

18/8 stainless steel burner

Stainless steel wire rechaud

Bamboo base plate

2.11 qt capacity

SRP: $60
Meat Fondue Tips:
A fondue pot cooks meat quickly so it's important to use a tender cut, like beef tenderloin

Fondue Bourguignon – individual diners dunk chunks of skewered meat into sizzling vegetable oil and then dip the cooked pieces into savory sauces

More health-conscious selections are fish, shrimp, chicken, and vegetables in a broth instead of oil

Versatile: also great for one-pot meals such as chili, hearty soups, Swedish meatballs, hot nacho and veggie dips!
And guess what we are helping you BRING THE FUN to  your kids' back to school dinner times by giving one lucky reader a Swissmar Geneva 11-Piece Stainless Steel Fondue Set! Just leave a comment on this blog post with a tip to help your kids' start off the school year on the right foot!  For a second entry you can "like" Swissmar on Facebook: https://www.facebook.com/swissmarcanada. For a Third entry you can Like The Staten Island family on facebook! For a fourth entry you can follow MelissaSChapmanwriter on Instagram and for a fifth entry you can follow @MelissaSchapman on Pinterest Good luck! Giveaway ends August 9th!