My kids do not take well to lectures. But for that matter whose kids do? Personally I'm not one much for lectures either– in fact whatever the subject being lectured to me is often falls on deaf ears. I do much better when I can be an active participant in a discussion and of course a visual aid always helps get the message across that much better. And my kids are the same. Don't get me wrong- they can sit through a religious sermon with the best of them and smile and nod with the best of them. They can feign interest and keep quiet- but after said lecture is over- if you ask them what they learned- they might parrot back some key messaging points- but the crux of the lecture- well I feel like it gets lost on them. They need to be inspired and awed in order to truly be touched by a presentation- and in our INTERNET microwaveable world- how can we expect anything else?   Of course we have quiet time, we read and our lives are not all about screens- but when I truly want to grab their attention and drive home a point I know having the aid of technology is an ace in my pocket.
Which brings me to NETFLIX. We were recently invited to become a member of their #StreamTeam. In addtion to the NetFlix folks providing me with their service ( which by the way already has me addicted- I've already screened all 13 episodes of   Orange is The New Black) each month they will be providing me with a theme and teachable lessons and moments the Netflix service can provide families like mine ( in addition to all the other awesomtastic entertainment!) And with October being National Bullying Prevention Month Netflix put together some pretty nifty tools to help parents open a dialogue with their kids about this issue. Keep reading for NetFlix's list of 11 movies and TV shows to stream on Netflix that help encourage a conversation with kids of all ages. Parents of teens and tweens can leverage Netflix titles that address bullying head-on, while those with younger children can demonstrate the importance of standing up for others using superheroes to show there is a hero in every one of us.
11 Movies to Stream on
Netflix
for Bullying Prevention Month
Show your big kids real and relevant stories about how kids fight back:
Show your big kids real and relevant stories about how kids fight back:
Big Kids
1. Bully
2.The War
3.Billy Elliott
4.The Fat Boy Chronicles
5.Cyber Bully
My kids were ESPECIALLY touched by the film   BULLY: Which Explores the subject of school bullying from a personal angle in an eye-opening documentary which tracks the stories of five different families whose children are struggling to defend themselves on a near-daily basis.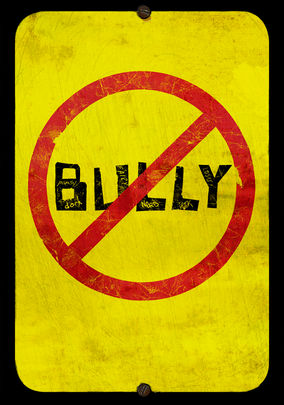 This film provided a wonderful foundation for giving my kids a FRONT ROW seat to seeing how bullying can truly affect a child and their entire family. It is a film that should be MANDATORY viewing in every household.
Little Kids
1. Hercules
2.Jimmy Neutron: Boy Genius
3.Avengers: Earth's Mightiest Heroes
4.Spy Kids: All the Time in the World
5.Justice League Unlimited
6.Ben 10: Alien Force
And for younger kids these age-appropriate craft ideas from Kelly Ladd Sanchez, former lifestyle editor of Parenting Magazine, can help extend the bullying conversation. Inspire your big kids to take a stand against bullying with these empowering messages.
Anti-Bullying Tie Dye Pillow and Tote
Click here to learn how to make your own.
"I'm a Superhero" Photo Magnet
Show your little ones there's a superhero in every kid with this fun and easy craft.
Click here for full instructions.
Still Not sure what Netflix is? Here is a quick guide!
What is streaming?
Movies and TV shows are instantly streamed (not downloaded) via a Netflix-ready device. On the go or snuggled together in the family room, families can watch what they want, anytime, anywhere with Netflix.
And lest you think this seems too complicated to set up- in our youtube video my daughter HOOKS IT UP!
Where can I watch Netflix?
You can get instant access to Netflix on hundreds of devices, including TVs, tablets, mobile devices, game consoles and computers.
How do I find TV shows and movies for my kids?
With Netflix, you have the power to choose what your kids are watching. There's even a dedicated section for kids where the only titles you'll have access to are pre-screened and appropriate for kids aged 2-12. Netflix works with Common Sense Media to provide ratings, reviews and information so parents can easily make choices for their children.
Who is watching on Netflix?
Just a few months ago, Netflix unveiled a new feature that makes it easier for everyone in a household to enjoy Netflix. Members can create individual profiles within a single Netflix account, allowing everyone to have their own personalized suggestions based on what they watch and rate.